We take a look at the best rain jackets for men and women
We've all been there, you get yourself all ready for a day out exploring everything that nature or the urban jungle has to offer, when suddenly, the heavens open. The humble raincoat is often overlooked by us ever-optimistic Brits who live in hope that maybe (just this once) there might be sun. But here at Outdoor and Country, we are calling for an end to this love-hate relationship with our waterproofs, so we took to our collections and dug out the best of the best, the Olympians of the raincoat world, if you will, to show you just how you can outwit the weather every day of the week.
I'm looking for…a lightweight waterproof jacket for walking
We love nothing more than heading out into the country to explore the great outdoors, but with our unpredictable climate here in the UK, we can never be sure if it will rain or shine, so a lightweight and breathable jacket is a must have for when you're out for a long day in the hills. For men, our top pick is this Timberland Kibby Mountain Jacket, as its 100% waterproof and features DryVent breathable technology to keep you cool when the clouds clear. The grown hood can be adjusted to keep you protected from the elements, and the elasticated cuffs will keep your mid layers dry. This Jack Murphy Farah Jacket is our favourite from the women's waterproof jacket collection as it is both water and wind proof. There are multiple pockets for added convenience, and you can adjust the hood and waist for the ultimate protection against stormy weather!
I'm looking for…a timeless, fashionable raincoat to complement my style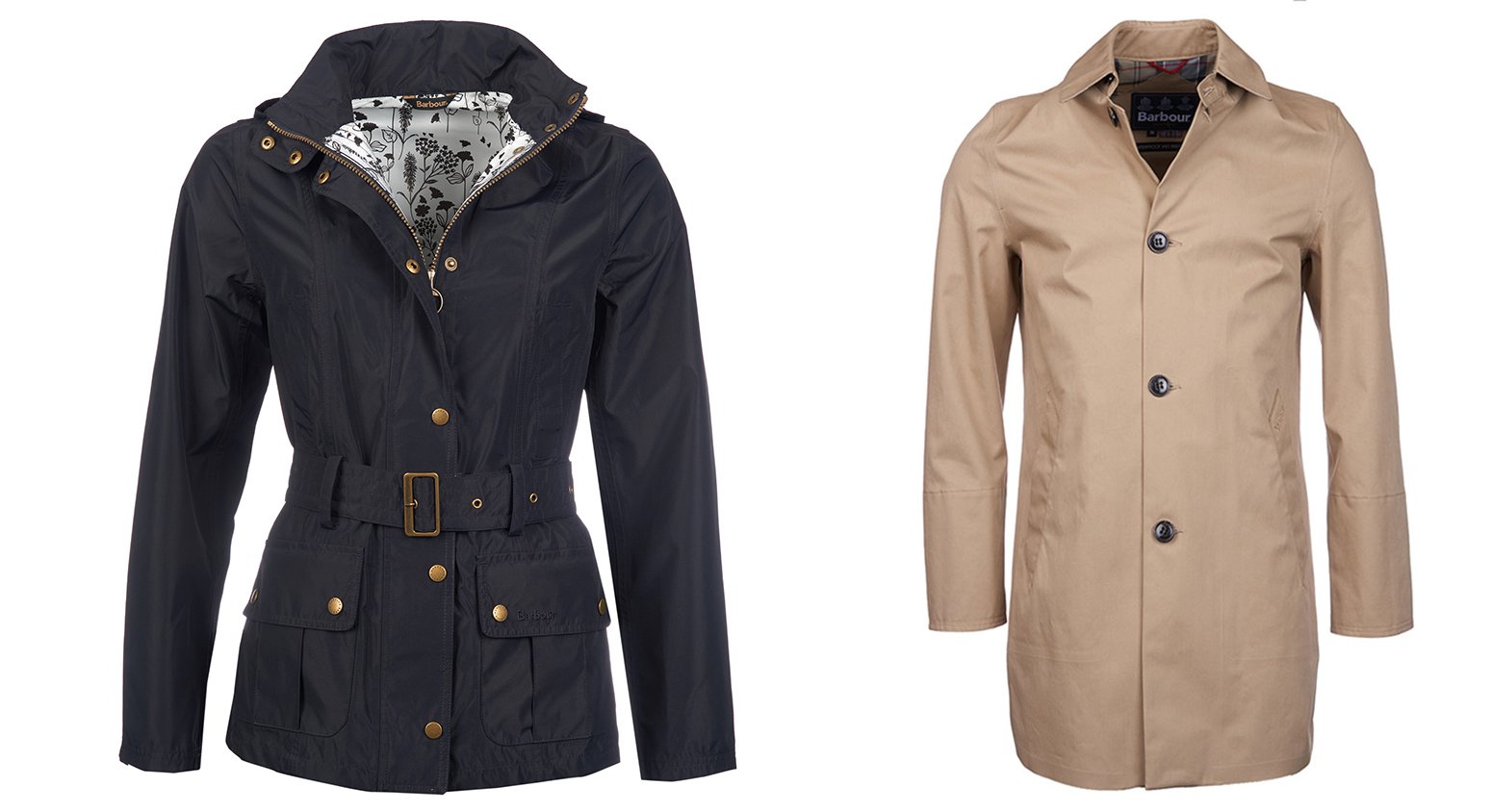 Fed up of sacrificing style for the sake of staying dry? We hear you. But arriving to work or a lunch date looking like a drowned rat is never a good look, so we delved into our collections and found these two timeless, stylish rain jackets which are sure to see you right. We love the versatility of the Barbour Wytherstone Belted Jacket, which is cut with an on trend high neck and fully waterproof to boot. Available in two shades, this jacket can be adapted to suit city or country styles. The tonal belt can be used to cinch the waist giving a more feminine, fashionable style, or it can be removed for relaxed country chic. Our top choice for men is this classic cut Barbour Waterproof Mac which will look fantastic layered over suits for the working week, and will ensure you stay warm and dry on your commute.
I'm looking for…the best rain jacket for day-to-day wear
It's a tale as old as time: blazing sunshine when you leave the house, torrential downpours the second you reach your destination. It's an unavoidable truth of living in the UK, but that doesn't mean that you can't stay ahead of the storms on occasion. Our best raincoats for day to day wear have been expertly designed to complement your outfit and keep you dry all year round. A classic Harrington style jacket like this bold Dubarry Waterproof Derg Jacket is ideal for taking the dogs for a walk, or heading out to meet friends. Featuring a tuck away hood in the collar, this jacket would look great when teamed up with jeans a pair of classic wellies for those wet weather days. For women, the longline Joules Newhaven Waterproof Parka features taped seams to guarantee protection from the rain, so whether you're on the school run or racing to work, you can easily outwit the weather. This Joules raincoat can be adjusted at the waist to offer a fashion fit, meaning you will always look great on the go!