Our Filson review will help you to find the best commuter bag to suit your style
There are some things we just can't live without, and a sturdy bag that helps you to get from A to B is one of them. Nowadays, in this age of portable technology, we want so much more than a stylish bag where we can store a newspaper, our lunch and maybe a pen or two. Now we need laptop bags, tablet cases, and mobile phone protectors to make sure everything gets to work in one piece. Navigating the Northern line with just one bag can be enough of a challenge without a laptop case, and lunch bag in tow, so seeking out a does-it-all bag that will keep all of your day-to-day essentials safe is the secret to a calm(er!) commute. When picking commuting bags, American brand Filson was our first choice, due to the durable design and attention to detail. All of these bags have been constructed from water and abrasion resistant fabric meaning you'll never have to worry about your precious tech getting wet. Whether you're driving, cycling or hopping on a bus, there's a Filson bag that will work for you.
Filson Briefcase Computer Bag
For the too-busy-to-talk commuter.
Perfect for if you need to pack your desk into your bag and rush off to a meeting at the drop of a hat, the Filson Briefcase Computer Bag has a plethora of different compartments for your laptop, accessories, pens, paper, mobile phone, wallet…we could go on! With a double zip closure and a folded press stud flap, you can be sure your valuables are safe and secure, while the flat open pockets make for easy access spaces for paperwork and travel cards. The two carry options are perfect for the constant commuter; the leather grab handles give the more sophisticated and professional briefcase look so that your clients need never know you've just used the leather shoulder strap so you can easily race through the busy streets.
Filson Tablet Briefcase
For the laptops-are-so-last-year commuter.
If your job doesn't demand you to carry around a laptop, then this Filson Tablet Briefcase is great for ensuring that your tech is secure and protected on the go. Whether you're a graphic designer with a drawing app, or simply use the games on your tablet to pass the time on the train, the padded sides of this briefcase are ideal for the pushing and shoving of the daily commute. With two carry options and a double zip closure, your essentials can be kept close to you in a secure compartment. The front of this tablet briefcase has a press stud flap pocket, great for storing books, snacks and travel cards.
Filson Small Duffle Bag
For the eat-gym-work-repeat commuter.

Easy to pack everything in and chuck in the car boot, this durable Filson Duffle Bag is great for anyone who wants to fit in a quick training session before the work day even begins. Large enough for your work and gym gear, but not impractically cumbersome, the water and dirt resistant construction means you needn't worry about stuffing it into a gym locker or throwing in a water bottle. The shoulder strap gives it that authentic sporting look, while the grab handle makes it easy to pick up as you run out of the door. So you can easily access your essentials, there are two stowaway pockets for everyday items such as your mobile phone and car keys.
Filson Journeyman Backpack
For the commuter who is saving the planet, one bicycle at a time.

If you cycle to work, then you'll know that your backpack is the last thing you want to be worrying about as you navigate the busy streets in the wind and rain. This Filson Journeyman backpack is fantastic for cyclists as it has a padded back and cushioned shoulder straps. As with all of these Filson bags, the Journeyman is made from rugged water resistant twill, but also features a water resistant lining to protect all of your valuables. The bag can be extended out, which is fantastic for storing not only your day-to-day essentials but comfortably fitting in your work attire, too. On the inside of the bag, there is a laptop sleeve, stowaway pocket and a zipped picket for extra security.
Filson Tin Cloth Bag
For the commuter who lives for the weekend.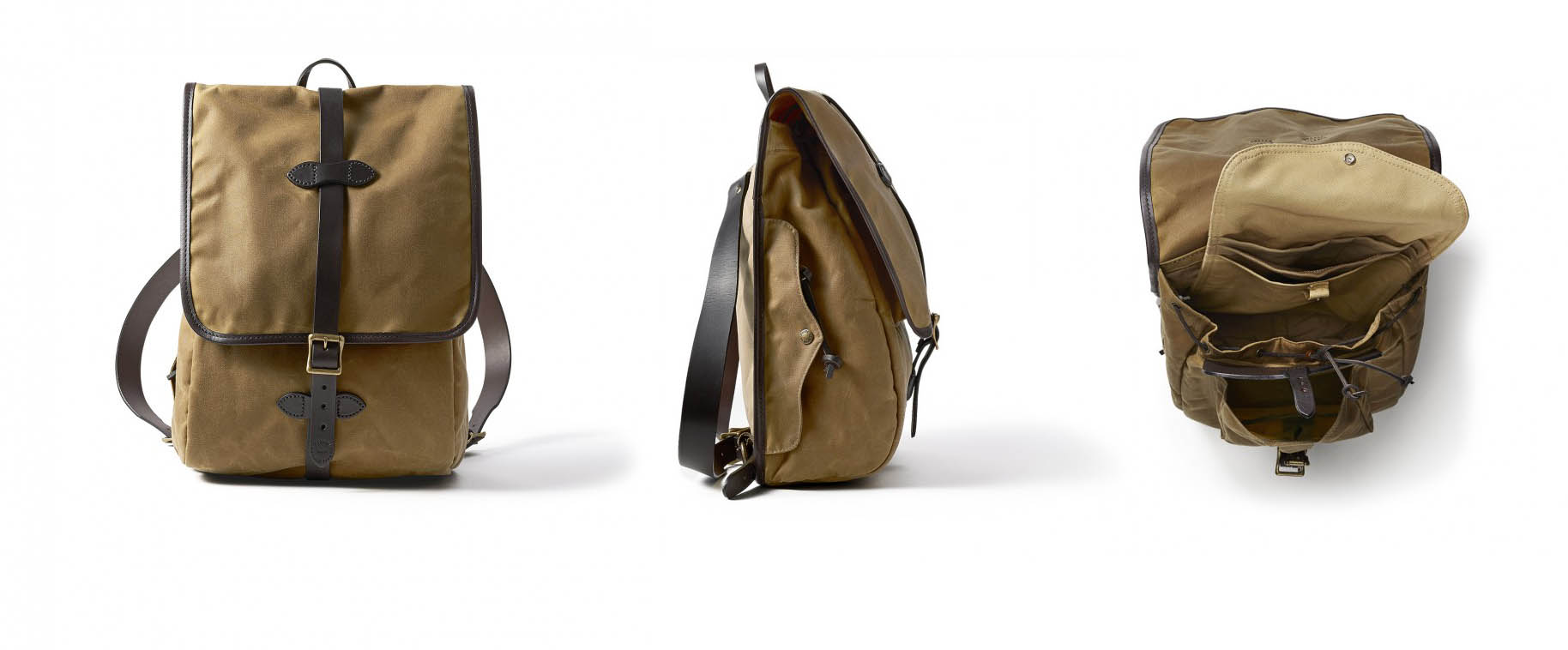 If you're after a backpack that's willing to work overtime, then the Filson Tin Cloth Bag is ideal for taking you from the working week into your weekend adventures. With a removable tablet sleeve and space for a small (13") laptop, you can easily take your tech with you on the commute and research your weekend activities before you reach the office. This classically designed backpack features a padded back for extra comfort whether you're trudging to work or trekking across the Lakes. When Friday finally hits, this versatile backpack can be transformed into an overnight bag for those last minute getaways. With comfortable carrying straps, a grab handle for when you're running for the train and a secure drawstring and buckle closure, the Filson Tin Cloth Bag is the ultimate adaptable backpack for work and play.
View our entire Filson bag collection here.