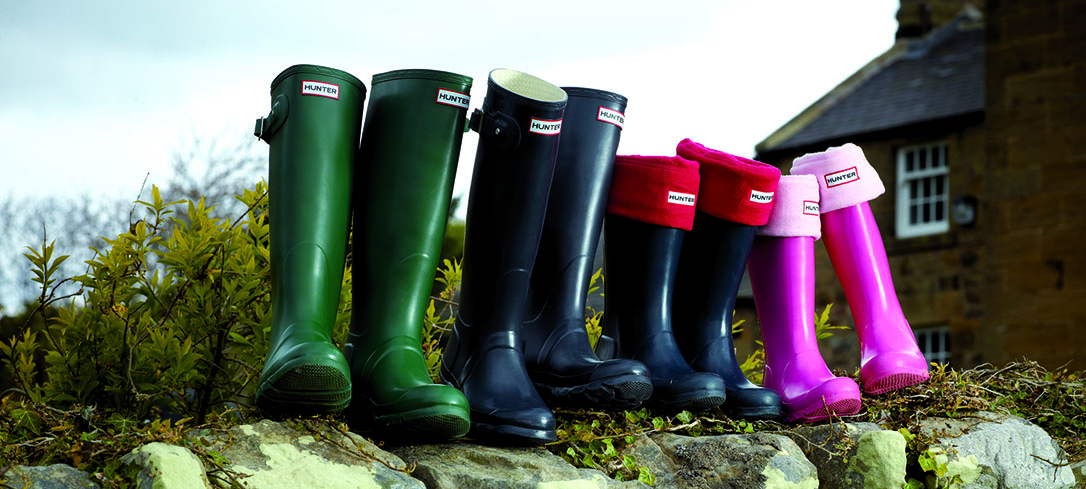 Trudging through the mud or splashing in puddles? Wet weather walking or weeklong working? The iconic Hunter Wellington boots are loved by farmers, festival go-ers and everyone in between, and are now split between the Hunter Field and Hunter Original collections to suit every need.
Do you need day-to-day Hunter rainboots or a pair of heavy duty neoprene wellies?
If you're still unsure on which boot will work best for your lifestyle, then read our comparison guide between the Hunter Boots on offer.
Hunter Field Boots | Hunter Balmoral, Norris, and Argyll Boots
Hunter Field Boots are all individually engineered with a range of technical features to offer full support to those who work outdoors. Hunter Field Collection Boots are ideal for anyone that needs all year round protection from the elements and a long-lasting boot that can stand up to a rigorous working life.
For the ultimate in durability, the high performance Hunter Balmoral Boot features an innovative Vibram® sole making them impressively lightweight with commando cleats for high traction- ideal for farming. Those who spend long days on their feet will benefit from the moulded insoles are ideal for as they aid circulation and ease muscle fatigue.
For less heavy duty work, Hunter Argyll Bullseye Wellington Boot, although not featuring the calf adjuster like the Balmoral, has been designed to fit a wide calf and ankle. Made from vulcanised rubber, the Bullseye boot is fully waterproof to stand up to rough environments. This boot would be well suited to those needing a heavy duty boot for walking or short term work on more difficult terrains.
Less robust than the Argyll and Balmoral, the Norris Field Neoprene Lined Wellington Boots fuses the iconic design of the Original Tall Boot with the practical, performance features of the Field Collection. The neoprene lining offers superior insulation by trapping warm air inside. Constructed in the taller design with a reinforced sole for extra grip, these boots would a great choice for someone who requires an easy-to-clean, protective boot for equine care.
Hunter Original Boots | Hunter Original Tall, Short, and Wedge Wellington Boots
The Hunter Original collection is based around its namesake boot, and its famous 28-part construction. They may be designed in a range of stunning colours, finishes and styles, but the Original Hunter Boots still incorporates the practical features that made the Original Boot oh-so popular.
Handmade, Waterproof, and Iconic: the Hunter Original Tall Boot is the jewel in the Hunter crown. Still constructed today in from 28 individual hand crafted parts, these boots are built to provide an exceptional fit. Comfortable and sturdy, these vulcanised rubber boots are ideal for general wear, but are most recently have become a festival favourite for the stars of the summer music scene.
As Hunter becomes a fashion icon in its own right, the stylish Hunter Original Short Boot are a versatile option for light work or walking. Like the Tall boot, the shorter option feature an orthopaedic fit making them perfect for talking man's best friend out for a stroll or giving your garden a little TLC. Fancy a chic upgrade to the regular wellington boot?
The Hunter Original Wedge Rubber Boots offer a contemporary twist on this practical design, ensuring that you will always stand out from the crowd. Sitting just below the knee, these wedge rain boots are perfect for popping to the shops on dreary days.
You can view our entire Hunter Collection here.