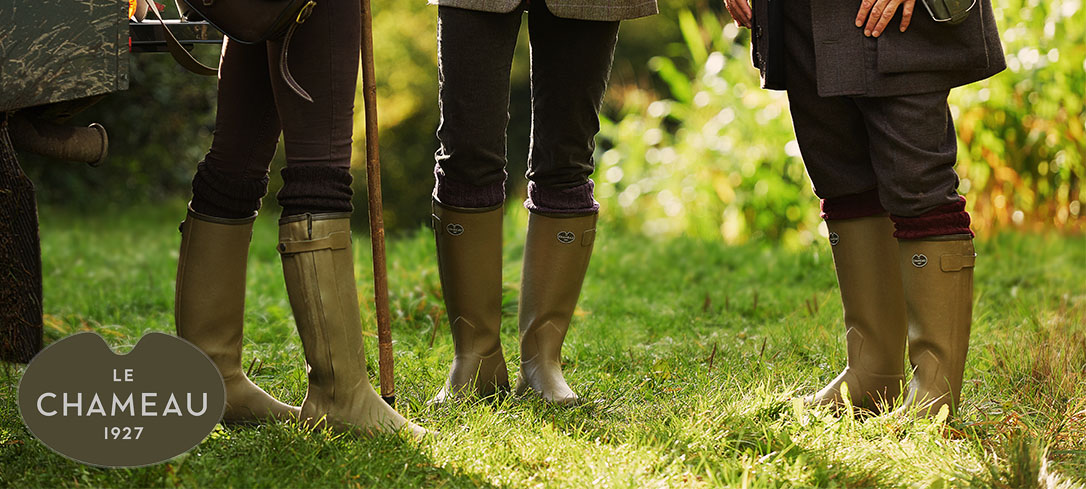 When it comes to neoprene wellies, it's a battle of the brands!
Aigle Neoprene Wellies
We're big fans of Aigle boots, especially their neoprene styles. We tried both the Parcours 2 ISO Boots and the Benyl 41cm ISO Boots and we found them both to be really comfortable with an exceptionally soft, padded footbed that the other styles in this review didn't offer. They are true to size, but are definitely wider around the foot. The Parcours ISO 2 are slightly heavier and chunky around the foot, so if you're looking for a slimmer look, you may prefer the Benyl. Both of these styles are great for wide calves, but it's worth nothing that the Benyl cannot be adjusted. Aigle wellies, neoprene lined or not, are crafted from high density natural rubber, so they're incredibly flexible, which is probably our favourite feature of the boots.
Le Chameau Neoprene Wellies
Seen as one of the most iconic country wellington boot makers, Le Chameau has lots of neoprene styles to choose from. We tested highest and the lowest priced Le Chameau neoprene lined wellies in their range – the Country Vibram 3mm Neoprene Lined Wellington Boots and the Chasseur Neoprene Lined Wellington Boots. The Chasseur and Vibram boots are true to size, and offer a great fit around the leg, even for those with wider calves. Like Aigle, these are made from very soft and supple rubber which makes them comfortable to walk in, however unlike the Aigle boots, these are slightly slimmer around the foot, offering a snug fit. The zip on the Chasseur is a very high quality, and feels robust, as does the sole on both of the boots. The Virbam boots are not adjustable, but are more affordable in comparison to the Chasseur which are the most expensive boots we tried.
Hunter Neoprene Wellies
In terms of bang for your buck, the Hunter Balmoral Adjustable 3mm Neoprene Wellies offer some incredible features that you would expect from more expensive boots. Available for men and women, these neoprene lined Hunter boots have a fantastic, hardy Vibram sole with a reinforced outer shank and toe protector, making them great for outdoor work. To make them easy to pull on and off, there's a pull tab and kick spur, which is a really useful touch. They can be easily adjusted at the side, making them ideal for wider calves, but it is worth noting they are slightly snug around the foot and may not suit a high instep. The rubber is soft and flexible, but not as soft as Aigle or Le Chameau by comparison.
Barbour Neoprene Lined Wellies
The Barbour Tempest Boots are currently the only neoprene lined wellies in Barbour's wellington boot collection. These boots are identical in their design for men and women, and fit on the generous side, so are suitable for those with wider feet. We loved the tartan lining – this was a unique touch that the other boots didn't feature – and the leather trim offers a premium finish to add a little style to an otherwise practical and affordable neoprene lined boot. The sole is hardy and supportive, but the boot itself is not as flexible as some of the other styles we tried. These boots are great for wider calves too, and can be adjusted to suit your needs.
See all neoprene lined wellington boots
---