What to wear on a shoot
With the Glorious Twelfth just around the corner, we're sure you're digging your tweed caps and cartridge bags out for the season – and whether you're shooting game or clay, everyone knows you can't just wear any old thing out in the field. If you're out on your first shoot, or are just looking to refresh your sporting wardrobe, then take a quick look over our guide to the best sporting clothes and accessories that will keep you on top form this season.
Country sports clothing needn't be a minefield
If it's your first formal shoot, it's always wise to ask your host about the dress code. Brightly coloured jackets and fleeces are a major faux pas – stick to greens and browns to ensure you're concealed from your quarry on a game shoot and save your colourful delights for feature ties, garters and socks. Although many shots are stylish men and women, comfort, safety, and practicality will always come one step ahead of style in the field, so keep that in mind when purchasing your shooting attire.
Sports Hats
If you're out on a formal shoot, a traditional tweed flat cap is the ideal accent to your outfit, and in colder weather you can find fleece lined, quick drying options to protect yourself from the elements. In extreme cold, beanie hats are becoming more acceptable providing they are in a subtle green or brown. On brighter days, sports caps can be great for protecting your eyes from the sun.

Shooting Jackets
Ease of movement is an integral factor when choosing a shooting coat; be sure to go for a jacket that has been specifically designed for use out in the field, and features a wide chest and an action back for extra flexibility. Since most shoots take place in the autumn and winter, waterproofs are a must when on a shoot in the British countryside. If you're on a driven shoot, you may choose to take a packable waterproof in your bag to quickly throw on when the rain arrives. Otherwise, waterproof shooting jackets are readily available if you value convenience over tradition.
Although many favour the traditional tweed jackets with their ability to stay dry and look smart out in the field, technical jackets have become more and more popular of late. GORE-TEX lined, fully waterproof and easy to move in, brands such as Schoffel, Musto, and Barbour have all created highly technical jackets specifically engineered to enrich your technique. If you're still a fan of the traditional tweed, then look no further than the Schoffel Ptarmigan Tweed Coat, which fuses the classic lambswool finish with those modern features that will keep you warm, dry, and on top of your game each and every time.
Shooting vests, fleeces and waist coats
On colder days, it's all about layering up for the shoot. On a formal game day, always opt for a traditional tweed waistcoat, with a sleeveless knitted vest underneath for added insulation. Sleeveless fleeces are also popular as they reduce the bulk around the arms and shoulders during a shoot. Sleeveless fleeces and vests are available in a range of subtle attractive colours, like those found in the Schoffel and Barbour collections. Make sure to choose a vest with added protection on the shoulder to enhance your shot.
Shooting shirts and ties
Tattersall shirts are traditional and easy-to-wear, and look great whether you're on a formal shoot or not. Ensure you choose a shirt with extra room for movement, and always choose 100% cotton for breathability and comfort. On a formal shoot, a tie is a necessity, but many opt for a tie on more casual days as they keep your shirt neatly in place and prevent any water from dripping down your collar!
Shooting trousers, breeks, and overtrousers
Formal shoots call for tweed breeks or trousers, but on a more casual day, a comfortable moleskin trouser is acceptable. When the weather is wet, or the terrain muddy, you will want to invest in a pair of waterproof and GORE-TEX lined overtrousers to protect your breeks or moleskins from the rain. Make sure you remove them if you're invited in for lunch though – muddy overtrousers and upholstery aren't going to get along! Ladies may choose a straight tweed skirt while out on a formal game day, but trousers and breeks are a fantastic option for warmth and practicality.
Sturdy country boots, wellies and shoes and shooting socks
Your shoes are the most important part of any outfit when it comes to comfort and practicality, but on a shoot, they are especially integral to your stance and overall performance on the day. There's a great debate regarding whether shoes, boots or wellies are the ultimate shooting shoe – and while we're not about to weigh in on that – we can tell you there is plenty of choice so you needn't pick just one if you're serious about country sports. A classic brogue or derby shoe is great for more manageable terrains on a formal shoot – just ensure you've polished them up from your previous game day! Wellies are ideal when the weather isn't on your side; we love Le Chameau boots for their robust sole and quick drying lining. If you're really wanting to make an investment in your wellies, then opt for the leather lined Le Chameau boots: we promise you won't regret it! For a pair of boots that will do it all, a GORE-TEX lined, leather country boot like those from Dubarry will tick both the style and practicality boxes. Always pack a pair of smart indoor shoes on the occasions where you will be invited in for lunch to ensure your outfit always looks well put together and your host's floors aren't ruined! Shooting socks are the best way to show off a little personal style, and are available in a range of rich colours that will peek out from above boots and shoes wonderfully. Make sure to secure your socks with garters to stop them from slipping throughout the day.
Shooting and Country Sports Accessories
No one wants to be weighed down with excessive – and unnecessary – bits and pieces while out in the field, but there are some essentials that you'll certainly need when out on a shoot. Firstly, don't leave home without a cartridge bag – even if you think that your pockets can hold all you will need, it's poor form to be without cartridges before the day is up, and you'll probably find you use more than you need, so pack a few spares. Ear protection doesn't take up much space in your bag, and is incredibly important to your health, so don't forget to take earplugs or over ear defenders – the latter will keep your ears warm too! Sportsmen and women should also be mindful that they will require eye protection, and although this can be provided by the shooting school, some hosts may not have the appropriate gear and many shots may require prescription eye wear, so make sure you're prepared. A pair of cotton, high performance gaiters are sure to come in handy when you're out on tricky terrain: not only will they go some way to keeping you dry, but you can be sure your neat tweed trousers won't get ruined by thorns and brambles. Finally – don't forget you wallet to tip the Gamekeeper!
---
Country Sports Essentials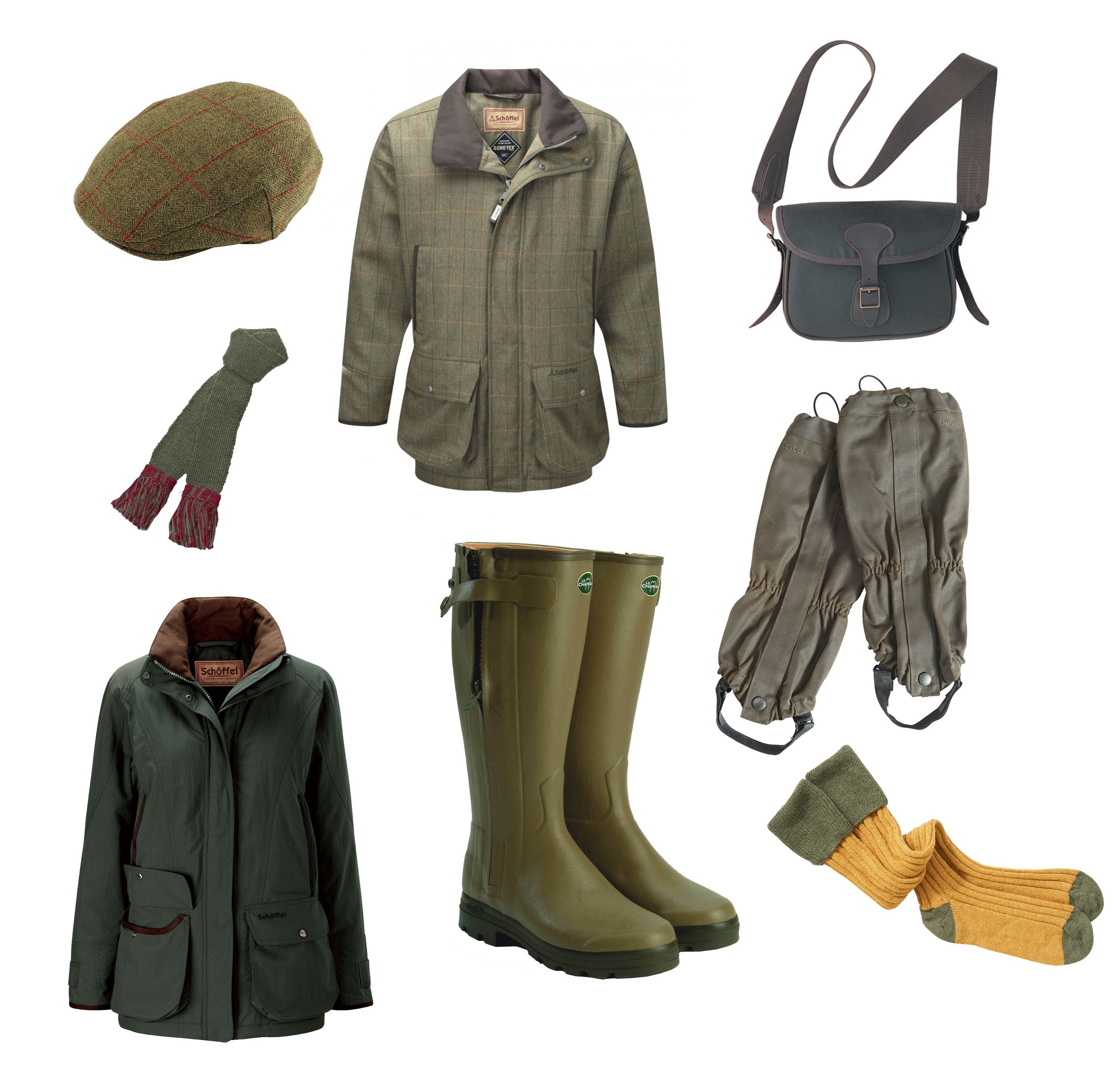 Men's Alan Paine Compton Tweed Cap, Men's Schoffel Ptarmigan Tweed Coat, Barbour Waxed Cotton and Leather Cartridge Bag,
Pennine Contrast Garter, Barbour Waxed Cotton Gaiters,
Women's Schoffel Ghillie Coat, Men's Le Chameau Leather Lined Wellingtons, Men's Alan Paine Shooting Socks.
Have a great sporting season!