Barbour Partner Store - Knutsford
Browse the latest Barbour styles in our Knutsford store
Our Barbour Partner Store in Knutsford is open seven days a week, and stocks an extensive range of the latest Barbour and Barbour International clothing collections for men, women, and children. You'll also find a range of footwear, accessories, and gift items.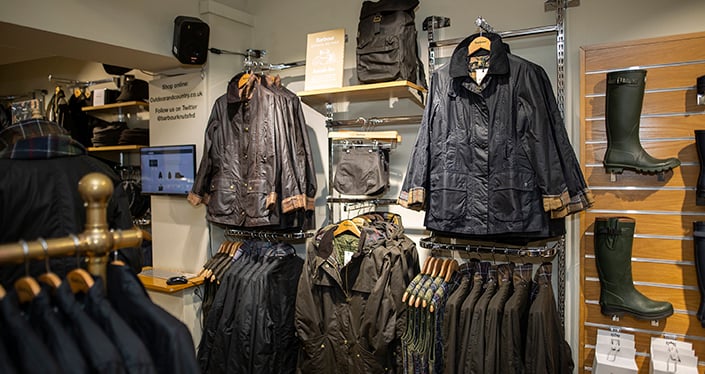 Click and collect available
For your convenience, Barbour Knutsford provides both collect in store and return to store services for your online shopping. Simply order online at outdoorandcountry.co.uk and have your order delivered to our Knutsford store. With our return to store service you are able to return unwanted online orders to the store for refund or exchange. In store, you can also take advantage of the Barbour repair and reproofing service for wax jackets, so if your much loved favourite is in need of a little TLC, pop into store and the team will do their very best to assist you.
Please note that the range of products listed online may differ to that in store, so if you're interested in a particular item we recommend you phone to confirm availability.
The team at Knutsford have many years of experience working with Barbour, and are only too happy to share their product knowledge; in fact, most of the team own many Barbour products themselves, so are able to offer first hand advice. If you have any questions, please feel free to pop into the store, call the team on 01565 631555, or email [email protected].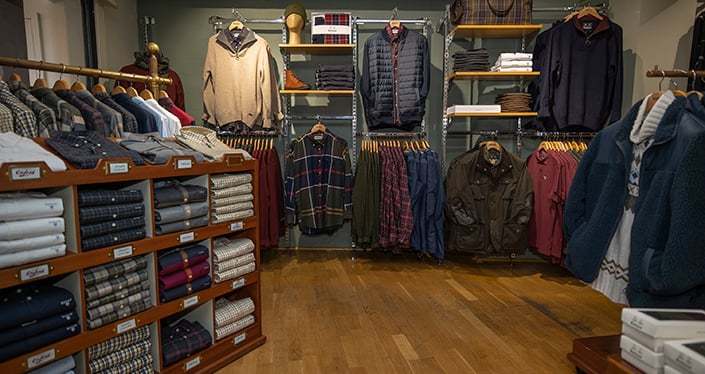 Find this store or get in touch
Barbour Knutsford
36A Princess Street
Knutsford
Cheshire
WA16 6BN

Opening Times

Monday - Saturday
Sunday
Bank Holidays* 09:30 - 17:30
11:00 - 17:00
11:00 - 17:00

Contact details 01565 631555 [email protected]

Find this store View on Map

Follow us
*Please note our Knutsford store closes at 13:00 on the first Saturday in May due to the Knutsford May Day Parade and is also closed on Christmas Day, Boxing Day and New Year's Day.
This is a Barbour partner store and consequently only stocks Barbour branded products.