Complete the look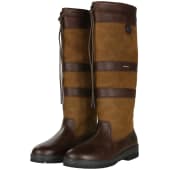 Dubarry Galway Boots
£349.00
Add to Basket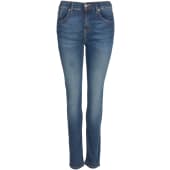 Women's Barbour Essential Slim Jeans
£69.95 NOW £55.96
Add to Basket
Description
A waxed jacket is a must-have for any country lady, and the Dubarry Mountrath Waxed Jacket is the ideal option for town or country wear. Complete with genuine leather trims for a premium finish, the Mountrath Jacket offers style and practicality, with a water repellent finish and a dry wax texture. A soft faux suede inner collar and under cuff offers added comfort while 40gsm PrimaLoft® fill ensures you're kept warm without any unnecessary weight being added to the jacket. The Mountrath Waxed Jacket features two outer pockets for you essentials, and interior security pocket for your valuables. To ensure you're kept well protected from winter winds, a sturdy YKK zip is covered by a studded storm placket.
Delivery & Returns
Delivery
We offer FREE UK economy delivery on any order over £35 containing at least one full price item. Standard UK delivery is charged from £3.95 and Express delivery (next working day) from £8.95. International delivery rates vary depending on the weight of items ordered and the delivery service chosen. Total delivery costs are displayed below when items are selected and also on the basket page. Default prices shown are for UK delivery, please select alternative delivery destinations on the basket page or login to your account to see relevant international prices.

Select the size and colour (above) to view currently available delivery options for this product.
Express -

Next working day delivery (order before 3pm)

Standard -

Delivery within 5 working days

Economy -

Delivery within 7 working days

Returns
Our satisfaction guarantee enables you to return any unsuitable items to us for exchange or refund within 90 days of receipt. If possible we would prefer discounted or sale items to be returned within 7 days of receipt.

UK products can be returned FREE with InPost Lockers available 24/7 or using a free Royal Mail postal returns label.
Please see our returns policy for further details.
Features
Dry wax texture
Genuine leather trims
Faux suede inner collar and under cuff
40gsm PrimaLoft® fill
Two outer pockets
Interior security pocket
YKK zip
Studded storm placket
Water repellent finish
How does the sizing compare to Barbour wax jackets?
I found this jacket to be true to size, I do have a Barbour Gillet which came up small, so I had to go up two sizes before I felt happy I would be able to wear a jumper under it. I love the Dubarry jacket and would go for it every time.
Date published: 2020-12-08