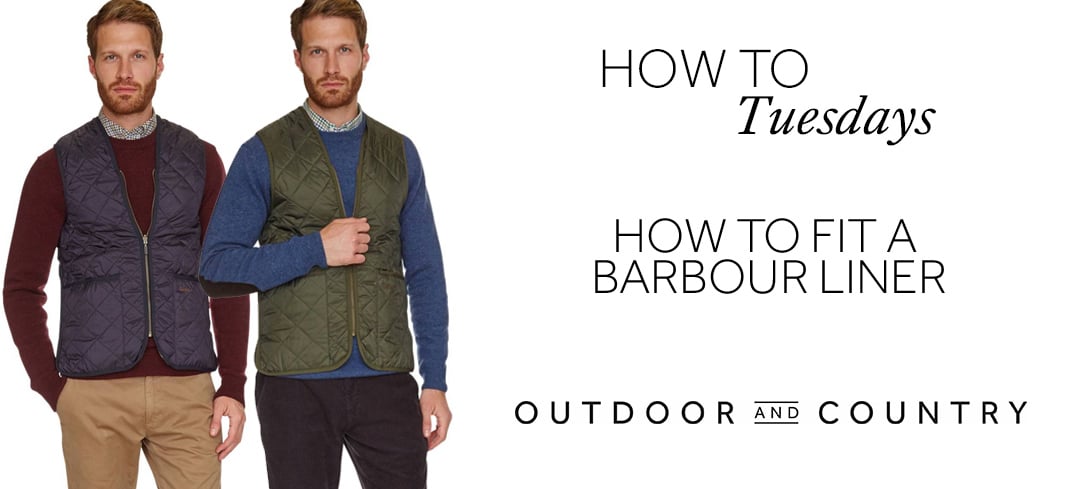 Get the most out of your investment piece
If you've invested in a Barbour jacket, you were probably drawn to it for a few reasons – the timeless design, exceptional craftsmanship, and of course it's enviable longevity. With proper care, your Barbour jacket can last a lifetime, and with the range of interactive, matching and care accessories available, you are able to make the most out of your jacket season after season.
Interactive accessories for Barbour jackets
Interactive accessories refer to the hoods and liners that can be added to your Barbour jacket to protect against the elements. There are a range of different styles depending on your needs, including storm hoods and warm pile zip-in liners for extra warmth. In this blog we're going to be looking exclusively at the various liners you can purchase to offer added insulation to your waxed jacket, so stay tuned for more information about hoods in the very near future.
"But which Barbour liner is best for me?" we hear you cry – well, let's find out!
---
For the majority of Barbour jacketsa and liners, you would need to choose a liner the same size as your jacket to get an accurate fit. However please note that the Barbour Ashby Waxed Jacket is a tailored fit, therefore Barbour recommend that you size down when selecting a liner.
---
Barbour Warm Pile Waistcoat / Zip-In Liner
The Barbour Warm Pile Waistcoat / Zip-In Liner features a cotton outer and acrylic pile inner for added insulation. This liner is finished with two pockets, but is not as easily wearable as a stand alone garment – if you are looking for something with more versatility, please see the quilted options detailed below. The Barbour Warm Pile Waistcoat / Zip-In Liner can be zipped into the following garments:
Barbour Beaufort Wax Jacket
Barbour Bedale Wax Jacket
Barbour Border Wax Jacket
Barbour Classic Beaufort Wax Jacket
Barbour Classic Bedale Wax Jacket
Barbour Classic Northumbria Wax Jacket
Barbour Ashby Wax Jacket (Tailored Fit)
Barbour Bristol Wax Jacket
Barbour Classic Durham Wax Jacket
---
Barbour Classic Quilted Waistcoat / Zip-In Liner
The Barbour Men's Classic Quilted Waistcoat / Zip-In Liner is a versatile, dual-purpose garment in diamond quilted nylon, which can be zipped into selected Barbour jackets or simply worn on its own. It has two side vents and two large patch pockets for added convenience. The Barbour Classic Quilted Waistcoat / Zip-In Liner is compatible with the following garments:
Barbour Beaufort Wax Jacket
Barbour Bedale Wax Jacket
Barbour Border Wax Jacket
Barbour Classic Beaufort Wax Jacket
Barbour Classic Bedale Wax Jacket
Barbour Classic Northumbria Wax Jacket
Barbour Ashby Wax Jacket (Tailored Fit)
Barbour Bristol Wax Jacket
Barbour Classic Durham Wax Jacket

---
Barbour Polarquilt Waistcoat / Zip-In Liner
One of our best selling liners, the Barbour Polarquilt Waistcoat / Zip-In Liner features a polar fleece lining for expert warmth in cooler weather. Easily worn alone over a sweater or zipped into your jacket, this style is ideal for taking your Barbour jacket through the seasons. The Barbour Polarquilt Waistcoat / Zip-In Liner can be zipped into the following garments:
Barbour Beaufort Wax Jacket
Barbour Bedale Wax Jacket
Barbour Border Wax Jacket
Barbour Classic Beaufort Wax Jacket
Barbour Classic Bedale Wax Jacket
Barbour Classic Northumbria Wax Jacket
Barbour Ashby Wax Jacket*
Barbour Bristol Wax Jacket
Barbour Classic Durham Wax Jacket

---
Shop our range of Barbour Liners
---